Socialize your dog at the Zoom Room!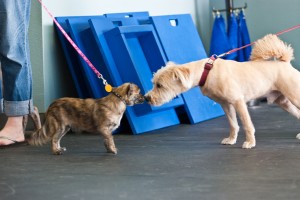 One of the most critical aspects of raising a well-behaved dog is early and frequent socialization with dogs and humans.  Dogs learn appropriate behaviors by interacting with other animals. At the Zoom Room, one of the fringe benefits of getting out and playing with your pet on our obstacles is the interaction your dog will have with his new buddies. If you are a new parent to a puppy, our Puppy Agility and Puppy Preschool courses not only encourage puppies to learn basic commands and skills, but also allow your new puppy to socialize with friends his age.  Even older dogs can benefit from the social aspect of our courses.  Well-behaved dogs thrive from both the competitive nature of our agility course and training classes, and the enjoyment of the smells, sounds, and interactions they find while exercising with other dogs.
At the Zoom Room, we like to stress that although we welcome all dogs and their owners, we also require that all dogs are evaluated for behavioral issues and that they are current with their vaccinations.  As such, the Zoom Room environment is a controlled one, and you can relax knowing your pets are playing safely with other well-behaved dogs.  So take the uncertainty of the dog park out of the equation and sign up for our September classes – there are still a few openings in our Agility, Obedience, Tricks and puppy classes.  Classes begin the week of September 13th, so make sure to reserve your spot now!