Meet Pazuzu, Zoom Room Austin's Dog of the Month!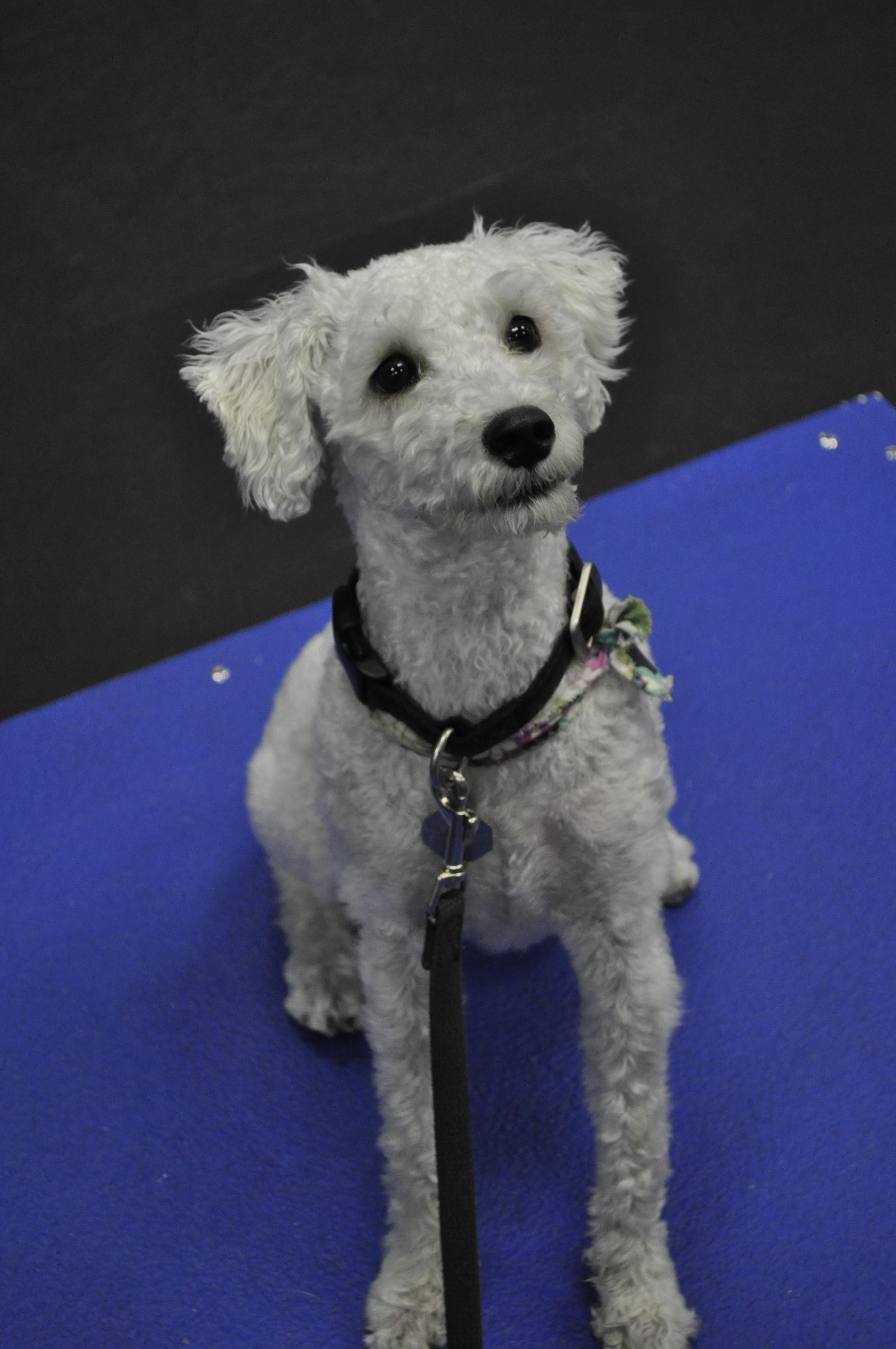 Pazuzu Hatch, also known as "Zuzu" or, sometimes, "Velcro" (because her curly hair attracts burrs), graduated from Zoom Room Austin's very first Urban Herding course in May. A one-year old Snoodle who looks a lot like a little teddy bear, Pazuzu excelled in the course, according to instructor and Zoom Room owner, Michele Mendoza. Pazuzu's mom Rosie enrolled in the course in order to learn off-leash commands, which she finds have real-life uses. Directional commands like "Come by" (meaning circle right) make it easier to get Pazuzu and her leash unwound from around things because Pazuzu helps.
Adventurous and playful, Zuzu is super friendly with other dogs, although she can sometimes be a little shy with new people, Rosie says. "I attribute her love of all dogs to Puppy Preschool," she adds. In addition to Puppy Preschool, Zuzu has taken Puppy Agility, Obedience 1 and Agility 1. Agility 2 is her next goal.
Fetch is Zuzu's favorite game. She loves tennis balls and sticks, and she can even catch a Frisbee! When she sees someone she knows, she gets so excited, "she starts spinning around like a little top," says Rosie. On walks at Austin parks like Walnut Creek and Turkey Creek, she likes to find a stick which she carries proudly for the entire time. If she puts the stick down to go explore off the trail, Rosie has learned not to pick it up or move it, because Zuzu knows exactly where she left her stick and will go back to get it before continuing the walk.
One of her newest tricks is "Speak." She knows a number of other tricks, and like many dogs, has a repertoire she runs through when trying to figure out what Rosie wants of her. She recently added "Speak" to the cycle of tricks she runs through, says Rosie.
You might not expect this ball of fluff to be a swimmer, but Zuzu loves the water (although Rosie notes she hates the bath she gets afterwards). She also has a thing for water shoes, as Rosie's family learned while swimming at a Corpus Christi beach. When she saw water shoes on Rosie's parents who were floating in the water nearby, Zuzu started biting them, but the best part of the story is that she ended up diving underwater to attack everyone's water shoes.