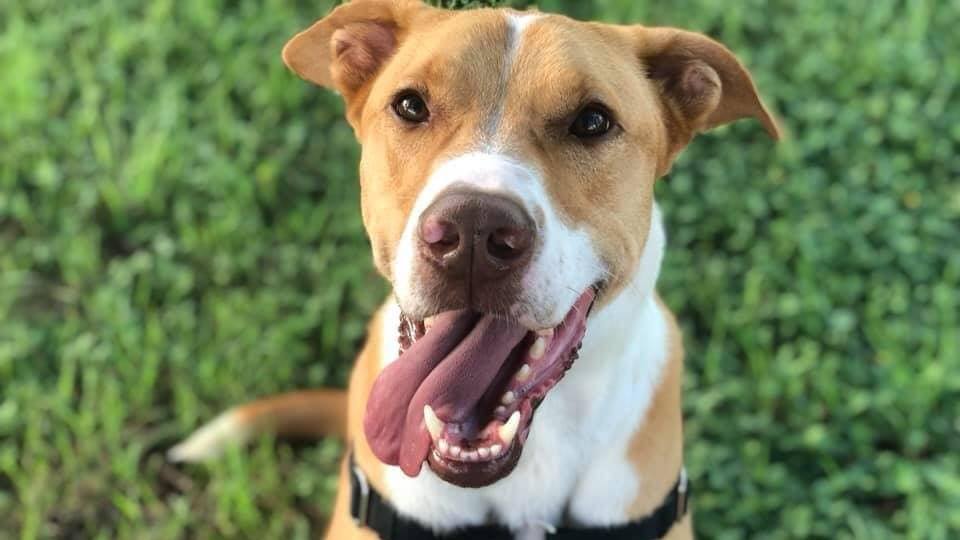 When we first met Odie back in June, he was a nervous boy who had only been with his family for a month. Since then, he has grown to be a confident pup who is focused in group class and quickly progressed to Obedience 3! Congratulations to Odie and his family for all the hard work and patience they have put into training!
Favorite Toy: tennis balls, stuffed toys (the easier to tear apart the better!)
Favorite Treat: peanut butter pill pockets (strange but he loves them)
Favorite Activity: going on a nice, leisurely stroll
Favorite activity at the Zoom Room: Getting to meet new human friends – he loves to give kisses!
Odie's owner, Bobby, had this to say:
We adopted Odie in May of this year from Austin Pets Alive! He was 3-and-a-half-ish at the time — he'll be 4 this November. He had been surrendered to the Austin Animal Center earlier in the year in February, and he was later transferred to APA! That's where we found him. My partner and I walked into the shelter with a list of dogs we wanted to see in May, and Odie wasn't on that list. But when we saw him while walking around the kennels, we fell in love and brought him home that day. He is an absolute sweetheart. He was a little shy and anxious about new things at first, but he has become so much more confident. That's really been the best part of training with him at Zoom Room — watching his confidence blossom. When we first took him in, he was too anxious to focus around other dogs. But he's done so well and he can now routinely do all kinds of tricks in a room full of other dogs! He was a happy dog in May — but he's a much happier dog now.

He has some arthritis from hip dysplasia so he was getting a daily anti-inflammatory pill for a bit to help him with that. We give him all sorts of treats while training, but he'll do ANYTHING for a pill pocket. That's actually how we got him to learn "place" so quickly — we made him do "place" every day for his pill pocket.

Odie loves to play with balls more than anything else in the world. He also really loves to tear apart stuffed toys (he only gets to play with those while closely supervised). Currently, he's chewing his way through Ross the Brontosaurus. Formerly deceased stuffed toys have included Mr. Owl and Mr. Bunny. May they rest in peace. Ross the Brontosaurus is thankfully lasting a little longer. His favorite activity is probably going on a long but slow walk.

Odie's favorite part about ZoomRoom is probably getting to see other people. He's a "people" dog and would gladly lick everyone's face given the opportunity. He also really loves doing "stay" at the end of class — we think mostly because he gets to stay put and relax for a bit after a lot of hard work!