Zoom Room Austin Now Offers Open Enrollment!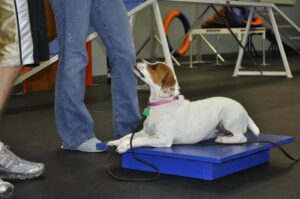 Ever wanted to try a class at the Zoom Room, but couldn't commit to six weeks? Not sure if you want to take Agility, Tricks, Obedience or all three? You're going to love the new class format at the Zoom Room!  We've heard your feedback, and created a new class structure that will allow you to create a training program that is customized to your needs.
Starting in August, the Zoom Room will be offering an open enrollment, open class structure, meaning that as long as you meet the class pre-requisites, you are welcome to join any class on our schedule!  For our current customers, you are welcome to sign up for the class appropriate for your dog at any time.  If you need a recommendation, just ask any of our staff!
For new customers, we are now requiring a free, half-hour Orientation designed to familiarize you with our facility, our training methodologies, and answer any of your questions.  The Orientation is without your dog, and you will have homework! Once you have completed your Orientation you will proceed to our Basic Manners class or to Puppy class, depending on your dog's age. Once you've graduated from Basic Manners or Puppy Obedience, you and your dog are ready for Agility, Tricks, or more advanced Obedience. If you feel that your dog needs to bypass the prerequisites and place into a higher level class, you are welcome to schedule a 30-minute evaluation to meet with an instructor and show off your dog's skills!
If your dog is Shy, or the complete opposite, we are still offering our popular Shy Dog and Calm Down! classes in six-week semester formats.  We will be offering our new Urban Herding (Treibball) class as a 6-week workshop as well.  Orientation is still required to enter these classes.
And we saved the best news for last – our pricing will stay just as affordable! Choose from a 4-class passes for $110, and 10-class passes at $225. Shy Dog, Urban Herding and Calm Down! classes will be $175.
Ready to sign up?  Click here to download the calendar of classes starting the week of 8/11. Click here to purchase a 4-class or 10-class package. To sign up for one of our free Orientations, click here!