Join the Fun in September!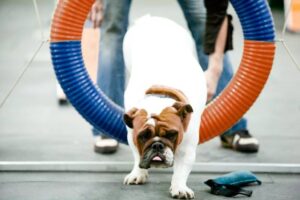 Wow, where has the summer gone?  We have thoroughly enjoyed every minute of the first summer the Zoom Room has been open here in Austin, TX, and are looking forward to a fun-filled Fall with new sessions and old (and new) dog friends.  But even though Fall is right around the corner, we know the warm weather is not going anywhere fast.  What better way to have some fun with your dog than in an air-conditioned, indoor playground?
Here at the Zoom Room, we wanted to remind you of the variety of training and agility classes offered for your dogs:
For Puppies we offer both a Puppy Agility class to burn off some of that puppy energy on the obstacles and a preschool option (for those puppies who need to start learning some manners!).
For Competitive Dogs try our Agility classes–the dogs love the challenge of the obstacles.  At the Zoom Room we offer several levels of Agility, from Pre-Agility (everyone has to start somewhere) to Agility 1 and Agility 2 (showoffs!).
For Naughty Dogs we offer Obedience 1 and Obedience 2, designed to get you and your dog working on practical, effective behaviors immediately.
For Nervous Dogs we offer Shy Dog classes for the pup trying to break out of his shell.
For Entertainers our Tricks classes are a great way to have fun with your dog and gives them more focus – we teach both the classics and a few you may not have seen before.
For Well-behaved Dogs our Therapy Dog class is designed to help fine-tune your obedience skills by focusing special attention on good manners, control around distractions, and therapy dog tricks.
Not sure which direction to go? Stop in for an evaluation and recommendations.  We'll work with you and your pet to find the best match.
Our next classes start the week of September 13th, so sign-up soon to reserve your spot!  Check out our schedule and class offerings today.  We hope to see you soon!