Moby Reminds Us To Stop and Smell the Flowers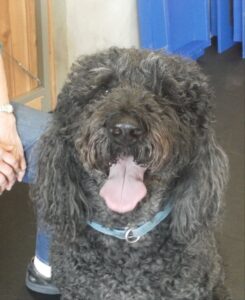 Moby Sparks, a four year old black Labradoodle, reminds his owner Sadi of the cartoon character Ferdinand the Bull because he loves to smell flowers. He also helps her tend to the baby squirrels she cares for as a wildlife rehabilitator. "He's such a sweet, giving dog," she says of Moby, who weighs in at 95 pounds. Maybe that's because he had a rough start in life. Moby was one of 10 puppies born to Sadi's Labradoodle JoJo. All the puppies were healthy except Moby, who was born with a birth defect that was corrected by surgery five weeks later.
Moby completed his first Agility League session in March and Sadi's goals include getting his Canine Good Citizen (CGC) and taking Tricks class.
When it comes to his toys, Moby would rather share them with other dogs than keep them to himself. "He gives his toys to other dogs to get them to play with him," says Sadi. But, when it comes to bones, he'd rather playfully taunt mom JoJo with his half-finished bone than offer it to her.
Unmaking beds is one of his favorite pastimes, along with walks through the neighborhood and playing with Sadi's grandchildren. In winter, he likes to run across the top of the swimming pool cover. Moby also likes to lie on his back and kick his legs. "We call it dancing," says Sadi. "He's not scratching his back, it's more like a workout." Maybe he's training for Agility League!
Congratulations Moby! As our April Dog of the Month you've won a free half-hour Private Rental at the Zoom Room!