Help Us Help Animal Trustees of Austin!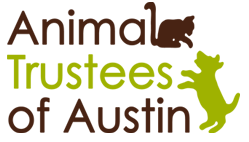 'Tis the season for giving, and Zoom Room Austin is getting in the holiday spirit with a donation drive for the Animal Trustees of Austin. We love ATA because they help local pets live better, healthier lives. The drive is in full swing now and continues through the end of December.
ATA is an outstanding non-profit organization providing affordable pet health care services. This hard-working group may be best known for its low-cost spay/neuter program, but that's just the beginning of the important services it offers. Affordable vaccinations, dental cleanings and heartworm treatments are also part of the mix.
It helps the community in other ways, too. Its 4PAWS program provides services to the pets of homeless persons and the Emergency Care Assistance Fund supports the care of animals in crisis.
You won't believe how easy it is to help ATA and Austin's pets. Just choose from the ATA Wish List shown below and bring your donation to Zoom Room. Many of the items are things you can pop into your grocery basket next time you go to the store.
ATA Wish List:
• Hydrogen Peroxide
• "Yesterday's News" cat litter
• Isopropyl Alcohol (70%)
• Bleach
• Light Colored Towels
• Kong Dog Toys (larger size especially needed)
• Liquid Laundry Detergent
• Postage Stamps (first class)
• Puppy and Kitten Formula and Bottles
• Paper Towels
• Dog Crates – All Sizes
• Dry Dog Food
• Cat Food – Wet and Dry
• Dog and Cat collars, harnesses, and leashes
Happy Holidays from Zoom Room Austin!