Congratulations to our January Dog of the Month!
Hamilton, also known as "Ham" or "Hammy", is a Coonhound/Catahoula/Rescue Mutt. While today he is a healthy, growing boy weighing in at 70 pounds, Hamilton got a rough start in life. He was brought to Austin Pets Alive! at only two weeks old and he fought for his life alongside a team of staff, volunteers, and fosters. It was one of these life-saving fosters that helping Hamilton find his mom, who took him home and helped him to grow and thrive!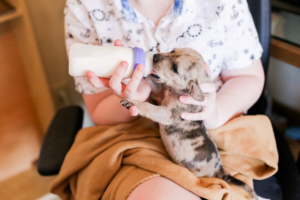 Knowing that he was a working breed with lots of energy, Ham's mom, Laura, knew she had her hands full and looked for the perfect place to train – and found Zoom Room! At just over two months old, little Ham started in Puppy Preschool, where he learned how to play and love other dogs, and not be afraid of scary things like the vacuum. Hamilton also fell in love with Puppy Agility – while clumsy on the jumps, he shot through the tunnels with pure glee!
Hamilton has grown up with the Zoom Room, and worked his way through the class offerings. He recently completed a Come When Called Workshop AND graduated from Obedience 2. At 9 months old, he is prepping to start Agility 2 and Obedience 3. Laura hopes to earn his Canine Good Citizen, and to eventually train as a therapy dog, where his lovable and goofy demeanor is sure to bring a smile to the face of anyone he meets.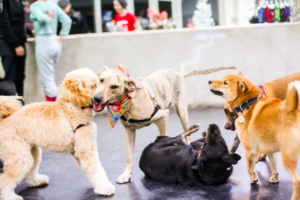 Hamilton also loves to show off his party tricks, and is working towards an AKC Novice Trick Dog title, where he will show off some of his favorite tricks like "kiss" and "play dead". When not hanging out at Zoom Room, Hamilton loves to spend time chasing and wrestling with his friends, playing with his purple goDogz Furballz, and enjoying a rotating selection of meaty treats. Hamilton loves everyone he meets – human, dog, or cat! His mom jokes that he's never had a bad day in his life.
Keep up the good work, Hamilton!