Join us at Dogtoberfest and the The Stiletto Stampede on 10/22!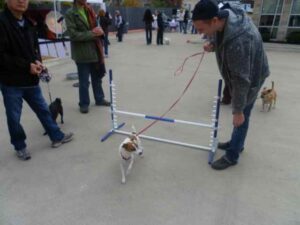 Along with the rest of Austin, we are out this month enjoying the lovely weather and all the events around town that come with it. We'd love for you to drop by and see us at two events benefitting good causes on Saturday, October 22 – Dogtoberfest and the Stiletto Stampede for the Cure. We'll be on hand with treats, coupons and giveaways!
Dogtoberfest keeps getting bigger and better every year! This dog rescue awareness and fundraising event features a costume contest, wiener dog races, a pet parade, a photo booth, a silent auction and training demonstrations. Dogtoberfest is at The Domain, 10 a.m. – 4 p.m. For more information, visit their website at www.dogtoberfestaustin.org.
The Stiletto Stampede for the Cure promises to be a morning of fun! The Hill Country Galleria is the scene for this breast cancer awareness fundraiser. Along with the signature event – a 100-yard dash in high heeled shoes – there are other races including a Pooch Scooch for the dogs! Or, you can participate in a scavenger hunt. Event registration begins at 9 a.m. and events start at 10 a.m. For more information visit their website at www.stilettostampede.org.
We hope that you will support these wonderful events and help us raise money for these great causes! And don't forget to stop by our booth to get some treats and goodies while you are there!