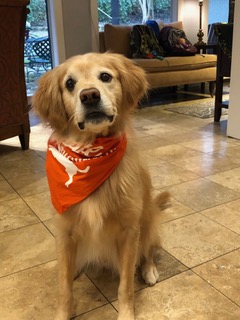 Colt has been a member of the Zoom Room family since August 2018, but has quickly racked up his class achievements! Despite being almost 8 years old and blind in one eye, he is always excited to greet you with his exuberant puppy-like energy. He has worked his way up to Agility 3 and has proven himself to be a very smart boy. His mom, Elizabeth, always comes to class decked out in her Zoom Room gear (and Colt in his bandana), ready to cheer on their other classmates.
Congratulations, Colt!
Favorite Toy: stuffed mallard duck
Favorite Treat: Gibson's bacon
Favorite Activity: car rides (especially to Zoom Room), fetching the newspaper, hanging out with my dad, duck hunting, retrieving and playing catch!
Favorite activity at the Zoom Room: agility – I love the aframe and tunnel!
Colt's owner, Elizabeth, had this to say:
Colt is named after a famous UT football player. His father was "Topbrass Rascher Dasher" (a trained hunting dog) and mother was "Sunsplash Zest for Life" (a champion obedience dog). You would think that he would have very good behavior – and mostly does – but I think the "Dasher" and the "Zest" in his background make him just want to dance for joy.

Colt lost sight in one of his eyes in a tussle at just 9 weeks old, but that didn't stop him from earning his Junior Hunting Title at 15 months old, and Canine Good Citizen at 4 years old.

Colt loves to play with the young kids in our family, and his doggy sister. When I get out his treats and bandana, he knows we are going to Zoom Room and gets so excited! He has made so many friends there, human and canine. The trainers have been so nice to Colt, and helping me learn what to do in Agility.