Help us help the Austin Humane Society!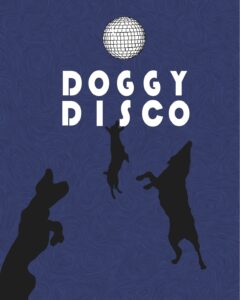 The Austin Zoom Room is thrilled to announce our first Doggy Disco! In conjunction with the Austin Humane Society, we have planned a night of pure fun for our dogs and their owners. Get ready to party with your favorite furry pals as we mix disco music and our famous disco ball with playtime for our favorite pups.  Best of all, the proceeds from our jungle boogie will benefit the Austin Humane Society! It's the perfect opportunity to entertain your favorite dog friends, socialize at the Zoom Room, and help out a beloved charity at the same time!
Our Doggy Disco is set for October 15th from 7 p.m. to 9 p.m. We will provide yummy treats, human and dog friends, and the entertainment. And if you haven't found your canine companion yet, the Humane Society will also have a few dogs for you to meet that are in need of good homes.
We can't wait to see you there!