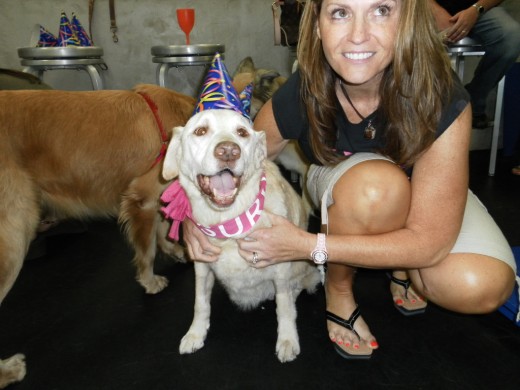 Cheyenne Goldberg is a beautiful golden retriever who recently had a party at the Zoom Room! Cheyenne and 9 of her closest friends got together to celebrate an early birthday and give her strength in her fight with cancer. All of the dogs had fun learning their new agility moves, and Cheyenne got in on the fun with some impressive tire jumps! Then everyone settled in for some hot dogs, cake & yoghund frozen yogurts. As you can see in the Facebook pictures, everyone was exhausted (dog tired?) by the end of it.
You can see all the photos from her party on Facebook.
The Zoom Room is one of the only places where you can throw a party and invite your dog! Children's birthday parties, anniversary celebrations, and corporate events – we can help you throw a spectacular party! To make a reservation, you can sign up at Zoom Room Austin or just call us at 512-371-1223!