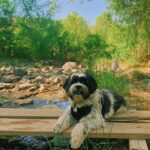 Maisie Mae has come so far in an extremely short amount of time! This sweet girl is one of, if not the fastest, progressing dogs in our location's history. She completed Obedience 1 in just 6 lessons! She was also approved for Agility classes in just 4 Obedience classes! Maisie gets all of her awesome practice while on one of her many travel adventures. She loves to go to the beach and the mountains with her family, on a regular basis. Maisie is always so welcoming and eager to learn when she visits!
Favorite Toy: Her pink alligator toy chew from Go Dog
Favorite Treat: Peanut butter pretzels
Favorite Place: The beach where she can get her zoomies out
Favorite activity at the Zoom Room: Obedience 2, the 'Watch Me' command, and the praise she gets after doing something well
Maisie Mae's owner, Lexi, had this to say:
Maisie is a craigslist pup, originally sold to me as a Shih Tzu. After she doubled the standard weight I did a DNA test on her and turns out she is a mix of Shih Tzu, lhasa Apso, and Husky! She goes everywhere she possibly can with us and so far has been to 10 states in less than 3 years. She does super great in the car and has even sat through a 24 hour long road trip. She especially loves to stick her head out of the window. She goes with me to the animal hospital I work at and practices her down stays sitting in the doctors' or manager's office while I work. She has three German Shepherds and a cat as siblings and gets along great with all of them. She thrives on attention from people and loves to meet other dogs on trails. Her instagram is @ms.maisie.mae.