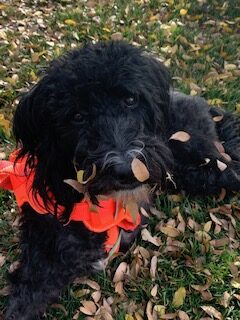 We love having Maxx in class. He may be a tripod but don't let that make you underestimate him. He is very smart and such a quick learner. Maxx is such a lover we can tell he loves coming to class to see his human and dog friends. From his evaluation to now being an obedience 3 dog we are so proud of how quickly he has grown.
Favorite Toy: The Chuck-It Giggle Kick Fetch ball
Favorite Treat: Freeze dried beef liver
Favorite Friends: Dog sister Dolly and Best Cat friend Lucy
Favorite activity at the Zoom Room: Any and all! He just loves going to class every week!
Maxx's owner, Heather, had this to say:
Even though Maxx is a tri-pawd, he doesn't let that slow him down.  He loves to run and play and chase his best friends in his house and yard.  He is especially happy following his grandma around all day long.  This March we'll have had him now for just a year, but it feels like he's been a part of our family forever.