Therapy Dog Training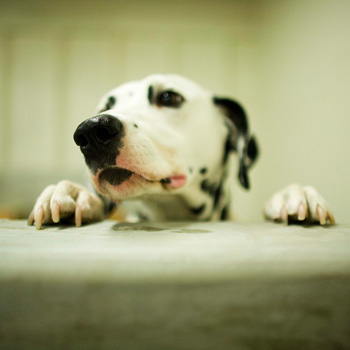 Therapy Dog Training is the most rewarding work you can do with your dog, as it affords both of you an opportunity to share your love with the people in the community who need it most.
Any dog can be a therapy dog, as long as there are no aggression issues. If your dog is aggressive toward other dogs or humans, you would first need to complete a round of obedience training before he or she was ready to begin therapy dog training.
Therapy Dog Training vs. Obedience Training
Therapy dogs require a baseline of excellent dog obedience training. But there's still much more to learn. Yes, part of becoming a therapy dog involves learning lots of great dog tricks. Why teach dog tricks? Because in addition to the warmth and soft loving comfort your therapy dog can share with those in need, he should also arrive to bring a wealth of smiles. Some great dog tricks can brighten anyone's day!
But in addition to dog obedience and tricks training, your dog will need to learn some very specialized skills. For example, many dogs are quite nervous around anything with wheels – from a car to a bicycle to a vacuum cleaner. The natural instinct of some dogs is to bark; others give chase; others shy away fearfully.
When you take your therapy dog for visits, one of the most frequent objects you will encounter is a wheelchair. Therapy dog training will teach your dog to be extremely comfortable around wheelchairs, even when they're rolling. Another item that your dog won't otherwise be used to is an IV pole and drip. A rambunctious dog could knock an IV pole over, or get tangled in the tubing. Therapy dogs must learn to be well-adjusted around such medical equipment, and learn to navigate them with grace and ease.
Are Therapy Dogs the same as Service Dogs?
Not at all. Service dog training is completely different. Service dogs receive highly-specialized training to assist the visually-impaired, the deaf community, as well as certain other populations. For instance, there are even service dogs known as seizure dogs who are paired with individuals suffering from epilepsy. A seizure dog can bark and alert his owner to warn of the onset of a seizure before it happens. Really!
Therapy Dogs, on the other hand, are almost always beloved family pets. Your dog lives with you as always, and isn't paired with a specific individual or institution. Instead, you make arrangements to visit various facilities with your therapy dog to bring warmth and affection to those in need.
Therapy Dog Venues
If you're wondering where you can take your dog after completing therapy dog training, the list is almost endless: children's hospitals, hospices, nursing homes, VA hospitals, home-bound elders, even rehabilitation centers.
Do some breeds make better Therapy Dogs?
Absolutely not. The only requirement is that a therapy dog be an adult, not a puppy. But a sweet, loving disposition can be found in any breed, as well as the lovable mutt. Not every dog is cut out for this work, but you should never feel limited by your particular breed or mix.
Therapy Dog Certification
Therapy dog certification is required before your dog can participate at most institutions. Pet Partners is the largest national group that certifies therapy dogs in the U.S. Pet Partners has testing facilities throughout most communities in the U.S. Your dog must receive a Temperament Test and therapy dog certification before he can start to perform therapy dog work.
Sign Up for Therapy Dog Training
Any of our nationwide Zoom Room locations would love to welcome you and your dog into our next Therapy Dog class. We offer a six week class open to all dogs who have passed their Canine Good Citizen Test or the equivalent. Learn more about our therapy dog training workshops.