Heart of Gold, Hair of Pink, Love of Life
ChaCha, the Yorkie with the pink hairdo and a heart of gold, has been brightening Audrey and Roger's life since they brought her home from her birthplace in Long Beach, almost two years ago when she was just 8 weeks old.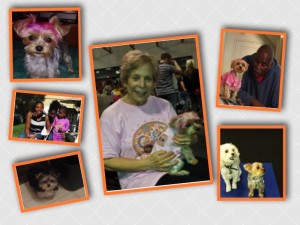 When she isn't running agility courses at Zoom Room, she is playing with her squeaky ball.
One of her favorite games is to have Audrey hide her ball under the blankets so she can go hunting for it and dig it out. She also enjoys finding it under the bed and dropping it down the stairs.
ChaCha can be picky about her treats, causing Audrey to switch them up frequently.  Audrey says, "She likes getting bones that she hides around the house. She's always moving the same bone to different  places.  She can't leave it in the same place for very long."
ChaCha is a social girl, making friends of all sizes. As Audrey explains, "She is our baby. And yes, she is spoiled. She likes big and small dogs and says hi to any dog passing the front door. She likes to go out and play with them. She is funny and kind." And even though she has a big-dog bark, she only uses it to let everyone know when the mail arrives, when the printer is running, or to announce the arrival of the UPS man. "ChaCha is very special. She has brought us hours of laughter and makes us very happy."
Congratulations ChaCha! Enjoy your complimentary Private Gyms!