Humans Have Birthdays, Too!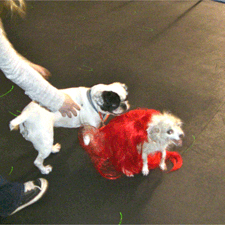 While of course at the Zoom Room we're always celebrating dog birthdays and adoption anniversaries, we must remember that humans have birthdays, too!
Last night the Zoom Room hosted a bash for Taylor, the owner of a fantastically nimble Boston Terrier, Beans. Taylor's birthday wish was a party attended by her dog, her friends, and their pups. We were only too happy to oblige.
The humans had their own great spread of food and drinks, while the dogs enjoyed pupcakes, the Doggy Disco, a costume contest, and a race on the agility course. Among the dogs pictured here are Lady, a white Pit who was a finalist in the costume contest as well as Beans himself, of course.