Nationwide Benefit Party
Doggy Disco® for Animal Charities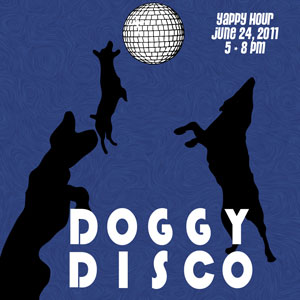 On Friday, June 24, 2011, the Zoom Room will celebrate Take Your Dog to Work Day™ with a nationwide Doggy Disco® party to raise money for animal welfare organizations while providing excellent socialization opportunities for dogs and their owners.
Come Socialize!
Our parties will be held at six Zoom Room locations from 5 to 8 pm, local time, in the following cities: Culver City, CA; Hollywood, CA; Pacific Grove, CA; Longmont, CO; Austin, TX; and Coconut Creek, FL. (Scroll to the bottom of this page for addresses and telephone numbers for all locations.)
The admission price is $10 per dog (humans are free, if accompanied by a dog, otherwise their entry fee is also $10), with 100% of the admission fare going to local animal charities.
Parties will feature refreshments for humans and canines, our special Doggy Disco® festivities with laser light shows on the floor for the dogs to chase, and an incredible music program created exclusively for the Zoom Room by Michaelangelo L'Acqua, global music director of W Hotels Worldwide.
Take Your Dog to Work Day
First celebrated in 1999, Take Your Dog To Work Day was created to celebrate the great companions dogs make and to encourage their adoption from humane societies, animal shelters and breed rescue clubs. This annual event asks pet lovers to celebrate the humane-canine bond and promote pet adoption by encouraging employers to open their workplace to employees' pets.
How to RSVP
Simply click the name of your nearest city below, and you'll be taken to the Zoom Room's site. If your dog already has an account, simply log in and sign up for the party. You can pay the $10 online using any major credit card. If you don't have an account, you'll be able to create one for your dog.
The fee is $10 per dog. If you plan to bring more than one dog, or if you'd simply like to make an additional donation, adjust the COUNT in your shopping cart to the desired amount.
Charitable Beneficiaries
100% of the entry fees ($10 per dog) will go to a wonderful array of inspired, engaged and forward-thinking animal welfare organizations. We encourage everyone to support these charities to whatever extent you are able – through donations of cash, needed supplies, or the generous gift of your time through volunteer work.
For 2011 Take Your Dog to Work Day, our beneficiaries are as follows:
| | |
| --- | --- |
| | A 501(c)(3) non-profit organization dedicated to creating a better future for pit bulls in Los Angeles- the "City of Angels" by promoting the positive image of pit bulls as loving family companions while working to stop their abuse, neglect and overpopulation through education, public advocacy, adoptions and the promotion of responsible pet ownership. |
| | spcaLA is an independent, nonprofit animal welfare organization serving Southern California since 1877. Donations run programs and services including Cruelty Investigation, Disaster Animal Response Team, Humane Education and a variety of shelter services. |
| | Animal Trustees of Austin, Inc. (ATA) is a non-profit animal welfare organization. ATA was founded by concerned citizens desiring to help lost, abused and abandoned animals in Austin and surrounding counties. ATA is made up of staff and volunteers united by one common interest – the welfare of the animals. |
| | Morris Animal Foundation helps animals enjoy longer, healthier lives. They advance health and welfare research that protects, treats and cures companion animals, horses and wildlife worldwide. Morris Animal Foundation is a world leader in advancing veterinary research that protects, treats and cures animals on every continent. The Foundation has funded more than 1,700 studies, many of which have led toanimal health breakthroughs in diagnostics, treatments, prevention and cures. |
| Institute for Canine Studies | The Institute for Canine Studies (ICS) is a locally based 501(c)(3) non-profit organization dedicated to reducing the wait for a trained service dog. To do this, ICS will build, operate and maintain a unique, comprehensive and self-sustaining campus in Marina, CA incorporating education, recreation and commercial activities that include dogs and the people who care for them. |
| | The Florida Humane Society, a 501(c)(3) non-profit organization, has many programs to enhance the animal's lives including community education, spay/neuter programs, and a disaster preparedness team. They are dedicated to saving the lives of unwanted companion pets through adoption, as well as aggressively striving to reduce the pet population through spay and neuter programs, and an overall commitment to increase the awareness of our community of the ongoing issues of understanding our domestic and feral animal population. |
Zoom Room Locations
Zoom Room Austin
7739 Northcross Drive, Suite H
Austin, TX 78757
TEL: (512) 371-1223
Zoom Room Coconut Creek
6548 – 6550 North State Rd. 7
Coconut Creek Fl 33073
TEL: (954) 429-1779
Zoom Room Culver City
11836 Teale St.
Culver City, CA 90230
TEL: (310) 636-4606
Zoom Room Hollywood
726 North La Brea Avenue (@ Melrose)
Los Angeles, CA 90038
TEL: (323) 272-4665
Zoom Room Longmont
2318 West 17th Ave, Ste. F
Longmont, CO 80501
TEL: (303) 834-8665
Zoom Room Monterey Bay
120 Central Ave.
Pacific Grove, CA 93950
TEL: (831) 717-4580