Keep your dog safe during a hurricane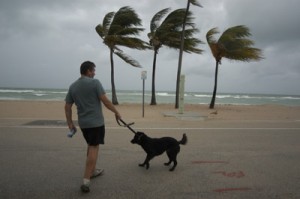 With the stormy season in full affect, we thought we would share some safety tips for keeping your pets safe during a hurricane. Preparation is key to ensuring the safety of your loved ones. Here are some tips for before and after the storm.
Before the storm
Make sure their records and vaccines are up to date.
Have current identification tags attached to their collars.
Ensure that you have a pet carrier big enough for them to move around in.
If you have to put your dog or pet in a shelter, call ahead to check for availability.
Make sure you have enough dog food to last at least two weeks.
Compile a safety kit that includes their food, medications(with instructions) and a favorite toy or bone.
You can never be too cautious – life vest might save your dog's life.
During the storm
Stay calm.
If venturing outside ensure your dogs are on leash and be on the look out for fallen power lines and trees.
Try make your dog feels safe and secure.
For more helpful tips click here