St. Patrick's Day for Dogs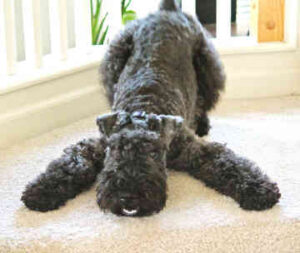 St. Patrick is famous for the old legend about chasing snakes, but what does he have to do with dogs?
Not a lot, to be perfectly honest! But that never stopped us from passing up a good opportunity for a celebration!
Actually there is some historical significance – as it was on St. Patrick's Day back in 1921 that a revolution took place in Ireland, giving rise to the full incarnation of the still thriving Irish Kennel Club.
Up until then, the Club had existed in the shadows of the English Kennel Club, subject to its breed restrictions. At the time, the most popular breed in Ireland was the Kerry Blue Terrier (pictured above), a beautiful beast not at that time recognized by the English Kennel Club.
So on March 17, 1921, members of the Dublin Irish Blue Terrier Club held a dog show featuring all their beloved breeds not accepted by their English counterparts. The show was so popular that it led to the birth of the Irish Kennel Club, which from then on governed all shows within the country.
Dog owners often celebrate St. Patrick's Day by adding a touch of green to their dog's accoutrements – perhaps a green collar or something not quite so understated.
Zoom Room Hollywood is celebrating the holiday with FREE OPEN GYM all day long on March 17th. If your dog is already approved for Open Gym, just stop on by – no need to pre-register – and enjoy Open Gym from 10 am to 7 pm.
Also, Zoom Room Culver City has another great special – stop by the Culver City location any time this week wearing green and enjoy a big discount on group classes!