Shy No More!
A second chance at socialization
Tonight was the last night of our first graduating Shy Dog class at Zoom Room Hollywood. Among the graduates was Zelda, a King Charles Cavalier Spaniel and her owners, actor Seth Rogen and his fiancé, Lauren Miller.
Like his classmates, Seth, who often plays a shy guy in the movies, is the proud owner of remarkable rescued dog. Some of these dogs were newly adopted while others have been living with their families for some time now, but never quite able to shake the baggage of their earlier lives. On the first night these five dogs arrived at the Zoom Room, they all had one thing in common: their extreme shyness was preventing them from having fully socialized lives.
Now, six weeks later, we are delighted to report that all five have graduated brilliantly, out of their shells, ready to more serenely enrich the lives of their families!
Shy Dog training can help dogs of any age, whether you've newly adopted them, or have had them for awhile and have been dealing with issues of insecurity and anxiety. It's so wonderful to give these dogs a second chance at socialization, and we give our thanks and admiration to these five dog owners to taking this step in improving the lives of their beloved dogs.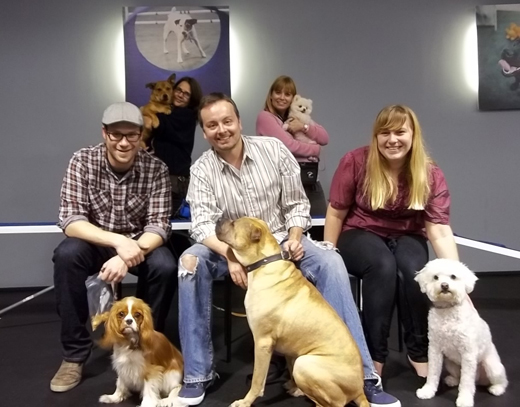 Pictured above:
Front (l. to r.): Seth Rogen and Zelda, his and Lauren Miller's Cavalier King Charles Spaniel; Dan and Cooper, his Shar Pei Mix; Emily and Asiago, her Poodle.
Back (l. to r.): Ellen and Bogey, her Dachshund Mix; Patti and Hope, her Pomeranian.
Our next Shy Dog class begins on January 9th, and there's still room available in class! If you have a rescued dog, or are planning to adopt one for Christmas or New Year's, feel free to give us a call.