Poppy Picked Parents, Proved Prowess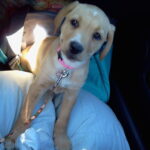 Poppy's mom, Sarah, says she isn't sure what Poppy's breed is. Sarah states, "It's a mystery, but probably Lab with something fast and awesome, like a Pointer, Hound, or Whippet."  Poppy just turned one year old on September 5 (happy birthday, Poppy!).
This bouncy "purebred mutt" joined Sarah's family as a wee pup at 8 weeks old.  Sarah had been thinking about getting a dog for a while and she started her search on the internet.
Her search led her to the Labradors and Friends website. There, she saw Ladybug, who was pregnant and rescued by a wonderful family outside of Temecula.  That family had two children and two Great Danes.  Sarah writes, "the father grew up on a Montana ranch so he could deliver the pups. It was a big litter but she kind of picked me – and was so loving and adorable that I had to take her home! The family kept Ladybug and all the puppies got good homes so it was a happy story all around. I still keep in touch with them — for example, I always text them when Poppy graduates to a new level of anything at Zoom Room!
"I named her Poppy after the California state flower, California Poppy, because she's a true California wildflower. Her roots are a mystery and she kind of looks like a Poppy flower with long, graceful legs and orange color. She's delicate but still hardy and popping with energy."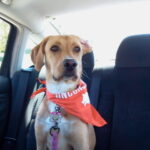 Poppy loves playing with her Flirt Pole and anything that sqeaks or rolls. For treats, she loves Bully Sticks, but really, anything will do. Her favorite activity is Agility!
Sarah's mom says, "What makes her so special is she has true heart in all senses of the word. She is very loving and also puts enormous gusto into everything she does. She is a wonderful companion for me and I love her very much."
We love her too, Sarah, and we can't wait to watch her enjoy her Private Gyms!