Puppy STAR Test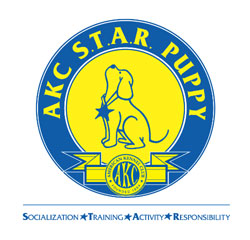 The AKC now offers the Puppy S.T.A.R. distinction, similar to the Canine Good Citizen Test, but reserved for puppies, to evaluate and reward accomplished puppy training.
S.T.A.R. stands for Socialization, Training, Activity, Responsibility, all qualities we highly support and endorse! If you haven't already, please read our article on puppy socialization, which is so utterly critical for your puppy's health, well-being and development.
The Zoom Room offers Puppy Preschool as an ongoing weekly program, meaning you can sign up online for as few or as many sessions as you'd like, as long as all your visits occur while your puppy is between the ages of eight weeks and sixteen weeks. But to qualify for Puppy S.T.A.R. status, you'll need to attend at least six sessions, so we highly recommend signing up for six visits.
Unlike the Canine Good Citizen test, you won't need to come in for a special testing day at the end of your training; instead, your trainer will evaluate your puppy on an ongoing basis throughout Puppy Preschool so that by the time your sessions end, your puppy will already be a S.T.A.R.!