Flying Dogs
Caring Pilots to the Rescue!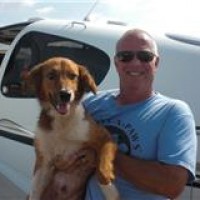 We are fortunate in that we have an opportunity to meet and work with so many caring rescue organizations and animal welfare groups around the country. We were so moved when we recently got to meet the folks at Pilots N Paws, a rescue organization unlike any other we'd previously encountered. They have such a dedicated staff of volunteers and an absolutely heart-warming mission.
Pilots N Paws is a charitable organization which transports rescue animals by air, thanks to the loving help of volunteer pilots. They have flown thousands of rescue animals, military working dogs, service dogs, and dogs soldiers have adopted from war zones to safe havens provided by rescues and families.
Flying dogs around the country, as well as maintaining an excellent website which coordinates communications between pilots, those with animals in need of rescue, and safe havens, comes with considerable costs. And as everyone involved is so generous with the donation of their time, they certainly could use financial donations.
The organization is a registered 501(c)3 charity, so your donations are tax-deductible and payment can be made easily online via PayPal. Make a donation today and support Pilots N Paws!
Just as importantly, Pilots N Paws can't fly at all without amazing pilots! If you are a pilot and would like to join this incredible organization – after all, what could be more rewarding than sharing your plane with a pup! – please visit their page for pilots.
If you are a rescue organization or you know of an animal in need of rescue, you can learn all about the process for posting your request here.
Lastly, here's a wonderful video that illustrates their mission and heart-warming success in saving animals' lives: