Mixed  Breed Pup Overcomes Her Past
October's Dog of the Month, Cally, is affectionately referred to as a "Baldwinian Harmon Hound."  In other words, her parents, Paul and Barbara, don't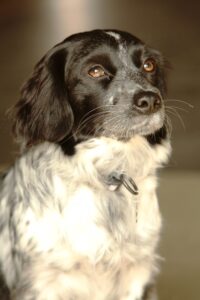 really know what she is. They created the Baldwinian Harmon Hound name because she was rescued from the Baldwin Park Shelter by a woman named Robin Harmon.  Paul and Barbara think she might be a mix of Springer Spaniel, Dachshund, and/or Border Collie.  This delightful mixed breed will be four years old at the end of the year, we think.
In the spring of 2012, Paul and Barbara were grieving the loss of their beloved friend, Bailey. Bailey was a three-legged Siamese cat who passed away at 16 years old. They knew they had room in their family for another rescue (beside their two remaining kitties), so Barbara started to search online for a new feline to rescue.  As she was searching, Paul announced he wanted a dog instead.
Coincidentally, it was right at that time that Cally's story was unfolding. A person found a dog tied to a post at a gas station, abandoned with a broken leg. This good samaritan untied the dog and took her to the Baldwin Park Shelter. That's where Robin Harmon stepped in. She happened to be at the shelter when the broken dog was brought in. Robin took her right then and there and went straight to the veterinarian, where the broken dog had immediate surgery.
After surgery, the healing "hound" was fostered by a couple, Carol and Hap. This couple named the brave dog Adele and they nursed her back to health. During the month of recovery, Carol and Hap posted pictures of Adele on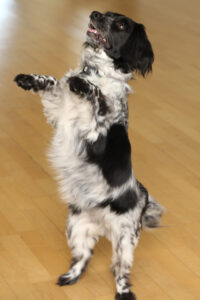 Facebook. That's where Barbara and Adele (now Cally) first crossed paths. Barbara followed Adele on Facebook and showed the pictures to Paul. He was sold instantly so Barbara contacted Carol.
Carol said the little dog was the "whole package." She was smart, sweet, good-natured, and well behaved — the perfect starter dog for a couple of cat people. Barbara and Paul knew they had to meet the little girl and it was love at first sight. As soon as the vet cleared her for take off, Carol and Hap brought her to her new home, where she was renamed Cally and introduced to her feline family members, William and Beckett.
Why did they change her name from Adele to Cally? Be prepared to get a little teary: In 2011, Barbara was diagnosed with a rare and difficult to diagnose melanoma. Two doctors worked hard to save her life — Doctors Cassarino (the pathologist who made the diagnosis) and Kelly (the prosthedontist who created her prosthetic nose). Put those two names together and – Oila! – Cally was created.
Now, Barbara and Cally are healthy and happy. Cally loves chasing and destroying squeaky toys and chewing on compressed rawhides. She adores Agility classes and loves everyone. She doesn't let her past influence her present. She trusts people, lets toddlers pet her, and even loves her vet. Cally is truly a testament to resilience and the power of love.
Congratulations, Cally. You definitely deserve to be October's Dog of the Month.