Meet Penny, the spunky cattle dog mix who has enough energy for us all!
Penny is a 2 year old cattle dog mix who was adopted from Wright- Way rescue in Chicago, IL. She has several nicknames including Pen, Pen-a-lope, Lopey, Weesh, Chick, and Peenski.
Penny's resume includes Agility 1, Agility 2 (soon to be Agility 3), and Agility League. She even had the best times the first 2 weeks of league!  When she's not running agility her absolute number one favorite thing to do is run/chase/herd. A close second would be seeking out small creatures living in the grass/bushes. That cattle dog instinct can definitely come out!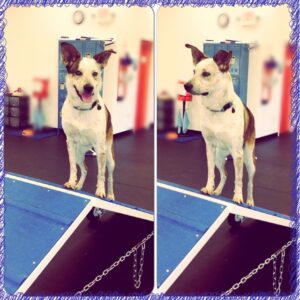 Penny can be a big clown and is always having fun. When asked about any quirks her owner says that she walks on her hind legs to get a better view of something that she is having a hard time seeing. She also sticks her booty in the air when she's playing with or meeting other dogs.  She's a fan of anything plush that she can rip to shreds or she also enjoys her treat ball that she pushes around to dispense treats
Penny is a sweet girl and will bring a smile to your face. She is very loved by her owner and you can tell there is a special bond. Her owner had this to say:
"I moved up to Wisconsin in the middle of winter without knowing a soul up here. Without my pal Penny, I honestly don't think I would've survived the move. She kept me active and helped me make friends up here (including our Zoom Room buddies!). She may drive me crazy sometimes but she is such a good dog and an amazing companion. I'll never understand the people that don't like or own dogs… they're truly missing out! "
We totally agree! Congratulations Penny on being named Dog of the Month for October.