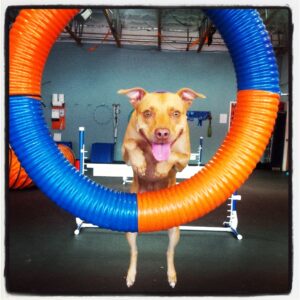 Meet Sandy! A 3-year-old pit mix and Hollywood's first Dog of the Month!
Sandy lives a charmed and happy life with her mom, Sky. The pup loves spending her days shredding through squeaker toys to get to the actual squeaker, eating goat cheese, and going to Agility and Private Gyms at the Zoom Room.
But life wasn't always so lovely for Sandy, and she had to take a trans-continental journey to be where she is today.
Two years ago, Sandy was found tied to a pole on the streets of New York, abused and starved. The Humane Society rescued Sandy and brought her to a charity event in the hopes of getting her adopted.
Meanwhile, Sky, who had always loved animals, but never felt that her lifestyle could permit a pet, was unaware that her best friend had decided Sky no longer needed to live alone. Rachel, the bestie, attended the Human Society event that Sandy was brought to. She couldn't bear the thought of the little "supermodel puppy" being put down. She arranged for Sandy to be brought to Sky's home the following day.
As Sky recalls of their meeting, "Sandy arrived very nervous and shy, and so was I! She was only about 30 pounds and had obviously been beaten…I adopted her immediately, she then sh** on my floor."
Accidents aside, it has been a life full of love for both Sky and Sandy ever since. Sandy even complements Sky's lifestyle perfectly; the pup loves sleeping in and will spend all day in bed when Sky doesn't feel like getting up either.
Congratulations, Sandy! Enjoy a few private gyms on us!