Marmaduke – The Movie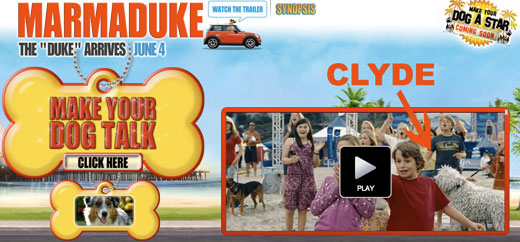 Today for the first time we saw the trailer for the new Marmaduke movie. We were delighted to discover that it features none other than our very own unofficial Zoom Room Mascot, Clyde Orange.
Clyde, a three-year-old Komondor (his birthday is today!), had so much fun on the set meeting all the famous dogs. It was literally a who's who of dog celebrities: the dogs from Hotel for Dogs, Marley & Me, Pushing Up Daisies, you name it!
True, getting the sand out of Clyde's cords isn't the easiest job in the world – but he's worth it!
Here's the full trailer of Marmaduke – The Movie.
Now isn't this the best birthday ever? (Waking up to freshly barbecued chicken breasts isn't so bad either. We love him.)