Loveable Mutt Takes June's Top Honors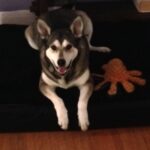 Don't be jealous of Skobo just because he's really, really ridiculously good looking.  Be jealous because he is additionally smart, curious, a phenomenal snuggler and an up-and-coming Agility star!
Skobo was adopted by Devon in September of 2008 from the Pasadena Humane Society.  There was one other party also interested in the handsome dog, but Devon won the drawing.
Thinking that the then 3-year-old pup was part Husky, Devon named him "Skobo" after Skobelev, a Russian propaganda agency during WWI.  After performing a DNA test, it was revealed that Skobo was less Siberian Husky and more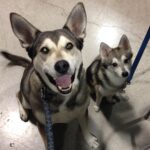 Staffordshire-Akita-Dalmation.
Much like his lineage, Skobo is a perfect blend of smarts and happiness.  His favorite toy is a bone, but he'll never turn down a Stella & Chewy's Carnivore Crunch Chicken treat. When he isn't peeing on things, his favorite activity is by far running agility.  Well, that or meeting new puppies!
We hope you meet many more puppies at Zoom Room, Skobo!  Take them on a date during one of your free private gyms!  Congratulations!