The Stig Sets the Pace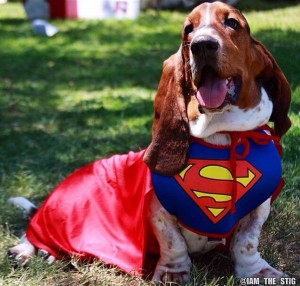 July's Dog of the Month is a Basset Hound with a unique name.
Some say he was delivered by a man wearing a white helmet driving a Bugatti Veyron. His mommy, Jennifer, sometimes says she drove to San Luis Obispo to pick him up. (The Stig prefers the Bugatti version.) When he joined his family, he was ALL EARS AND PAWS!
How did The Stig get his name? His parents are huge fans of the British television series "Top Gear." The Stig is a mystery figure on the show who sets lap times for cars tested each episode.
Although he's a Basset Hound, The Stig follows in his namesake's shoes by setting the standard in Agility League.
The Stig turned two on March 20, one day after his human dad's — they are both Pisces and Year of the Dragon. Some might say they share some similar characteristics.
The Stig's favorite treats include Filet Mignon and paper towels, but he'll eat others if his parents can figure out what will interest him on any given day.  He'll love a treat one day and won't touch it the next. But he never turns down his raw and organic meals.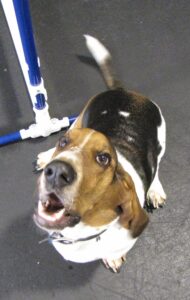 Jennifer says The Stig's favorite activities are destroying mommy's things, agility, meeting and kissing people and catching up with his Instagram friends!
The Stig has been a long time member of Zoom Room Hollywood. His zest for life makes everyone at Zoom Room smile from ear to floppy ear. He loves agility and is currently a part of our Agility League!
You can hear him howl from a mile away… literally. He's all about making friends and loves his ladies. The Stig is a great example of what a dog's life should be because of his lovable nature and positive attitude.
Congrats Stig! Enjoy your four-pack of Private Gyms!