August's Dog of the Month is a… ?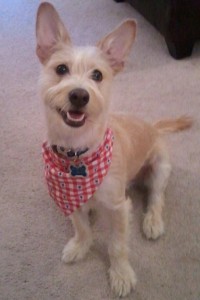 One-year-old Bentley is a Terrier from an unknown background.  His mom, Jessica, says they have no idea what Bentley is, but they think he might have had three daddies since his litter mates all look completely different.
Last summer, Jessica went to at least six or seven shelters looking to meet their next new family member. They decided to check the Humane Society in Glendale and noticed a litter of puppies that had been brought in just days before. At seven weeks old, they weren't old enough to be adopted yet, but they were allowed to meet them. And it was love at first sight. 
Bentley was the odd ball of the litter, the only golden pup among his grey and black siblings. He was pensive and the owner of the shelter said his siblings seemed to treat him differently because he looked different. It was then that Jessica became resolute that he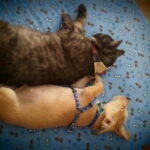 was "the one." She promised to accept him just as he was.  She says, "he was perfect to me and I would tell him I loved him every day."
So Jessica visited every week until the little guy was old enough to be adopted and he could go to his new home and join the growing rescue family. Once home, Bentley met his rescued kitty brother, Ivan, and rescued kitty sister, Miss Priss. By the afternoon of the first day Bentley and Ivan were napping like a little/big spoon… apparently the kitties accepted him.
When Jessica first laid eyes on Bentley, he was a really tiny guy but he already had a full beard.  His new family knew he needed a distinguished name to support such a distinguished beard! And so, the tiny pup with the full facial hair was officially dubbed Mr. Bentley Jackson Thomas.
Jessica's mom sent over a care package to welcome Bentley into the family on his adoption day.  A year later, Mr. Foxy (or what's left of him, anyw
ay) is still his favorite. As far as chewy treats go, Bentley loves his Himalayan Yak Chews.  On special occasions, he'll get to gnaw on a Merrick Natural Stuffed Hoof. Jessica says she must really love the little guy… she's been a vegetarian for 18 years so giving him meat treats is a true act of devotion.
Jessica writes, "Bentley loves the little squeaky Kong tennis balls and would play simulated puppy soccer games for hours if given the opportunity. He bumps the ball with his head, dribbles the ball with his feet and even goes for side tackles. He recently figured out how to up the ante by adding a second ball to the play too – so of course mastering the art of fitting both balls in his mouth came soon after.
"Bentley is an active pup… he likes going to the dog beach, the dog park or hiking…but what he LOVES?! Zoom Room — from Agility League to Obedience or Tricks classes. Each time we get into the parking lot he goes crazy! You'd never know he was in OB 3 by the way he pulls that leash to get into the building!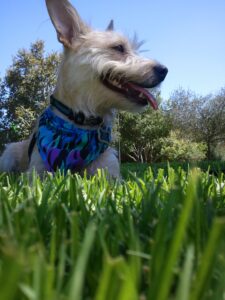 "While he's still just a baby with a lot to learn, I think that Bentley has a lot to share with others. I work as a therapist with kids in the system (foster care and/or juvenile court) and it's my hope that one day he'll be able to join me in my work with kids, as my co-therapist. His story is very similar to many of the kids I work with. He looks a little different from his siblings (having different dads), he was separated from his family at a young age, he has been treated differently because of the way he looks and he needed a lot of support (training) to become the confident little pup he is growing into. (And I mean come on, with ears like his?! You KNOW he's going to be a good listener!)
"So, while he hasn't completed his CGC and has a ways to go until his therapy dog certification, he did receive his STAR Puppy Certification (the puppy version of the CGC) in January. And in September he's been invited to join me as a 'staff dog' in a program that pairs up at-risk teens and shelter dogs. I couldn't be more proud of my little blonde bullet."
Bentley, you are living proof that nurturing makes all the difference.  We are so proud of your development! Congratulations. We can't wait to watch you make good use of your Private Gyms!