Iditarod Best Dog Care Winner
Zoom Room Salutes Aliy Zirkle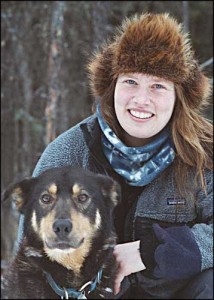 Musher Aliy Zirkle came in 11th place in this year's 39th Iditarod, but we consider her the hands-down winner.
Why? Because for the second time in her career, Zirkle, 41, was awarded the Leonhard Seppala Humanitarian Award for Best Dog Care.
Mushing is hard. Racing in the Iditarod – a grueling 1,100 mile ordeal – is an almost unimaginable challenge. Actually finishing the race, let alone in eleventh place, is an astounding accomplishment. But doing all of the above while exercising the maximum care for your dogs? Absolutely priceless.
The award is judged by the veterinarians who service all of the dogs in the competition. The winner must also be a fierce competitor, as only those mushers who finish in the top 20 are eligible.
Zirkle and her pups crossed the finish line in Nome 9 days, 10 hours, 22 minutes and 31 seconds after departing from Anchorage – her best time ever.
Aliy Zirkle sums up her achievement beautifully:
In my world there's no higher prize. I'd love to win, but more than that I love to have a happy, healthy dog team at the finish.
And that's why she is our hero!