Hero Dog Awards
American Humane Association celebrates Therapy Dogs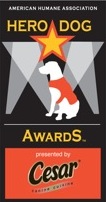 The American Humane Association presents the Hero Dog Awards, honoring guide dogs, therapy dogs, search and rescue, and other heroic canines. The show will be hosted by Carson Kressley, who will be joined by Betty White, Victoria Stilwell, Whoopi Goldberg, Kristin Chenoweth, and other stellar dog-loving luminaries, and will premiere on the Hallmark Channel on November 11, 2011.
Over 300,000 people have voted, and eight finalist dogs (one in each category) were selected. During the awards show, one of these eight incredible pups will be crowned the Hero Dog of the year.
American Humane Association
Since 1877, the American Humane Association has been at the forefront of every major advancement in protecting children, pets and farm animals from abuse and neglect. Today we're also leading the way in understanding human-animal interaction and its role in society. The Zoom Room encourages you to make donations in any amount to the American Humane Association.
Proceeds from the Hero Dog Awards will benefit Red Star, an 82-foot mobile veterinary unit and command center deployed most recently in Joplin, Missouri to aid 1,500 dog and cat tornado victims.
The Zoom Room is proud to sponsor the Hero Dog Awards with over $2,500 in donated items to the silent auction, which will be held at the Beverly Hilton Hotel on October 1st (where the awards show is being taped), as well as in the AHA's online auction in which anyone may bid.
Online Auction: Bidding for Good
Bidding is now open for the Hero Dog Awards! There are some wonderful items available for bidding. And if you're the winning bidder, not only will you and your dog get great stuff, but your donation will help the Red Star mobile vet unit!
As of today, the Zoom Room Dog Training Package is listed as the #1 hottest item in the auction. Please check it out and bid generously!
Zoom Room founders Jaime and Mark Van Wye will be in attendance at the awards show gala on October 1st, so we'll be sure to post again with news and photos from the special night.