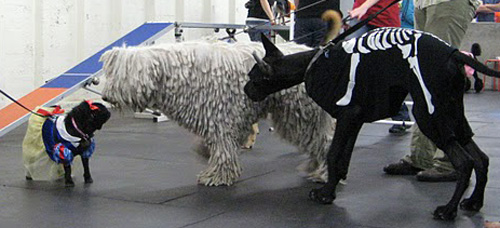 Halloween Costumes for Dogs
Halloween is the perfect holiday to enjoy with your dog and express your creativity. Dog costumes have become a huge business for many pet stores, which stock them in all shapes and sizes. Although you can find superheroes, dragons and bumblebees galore, original, homemade ones let you really show off your creativity (and your dog)! In addition, if you own a large dog, fitting can sometimes be an issue, so even if you start with something store-bought, you might have to make some creative alterations.
Creative Dog Costumes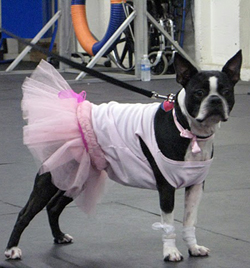 Have a fierce-looking Terrier? Why not dress him up as a fancy pink fairy princess with a tutu and a tiara? Own a tiny little Chihuahua? How about a hard-core punk rocker? Some of the best (and funniest) costumes reverse our expectations. Current events can also spark some great costume ideas – don't your think your dog is itching to sport a jailhouse jumpsuit as Lindsay Lohound?
Raid your closet for costume jewelry, neckties, robes, hats, or even kids' clothes – or head to your local thrift shop.
Wigs are an often-overlooked item that work wonders for dogs to really add a immediate and dramatic change. Perfect for cavemen, rock stars, or Hollywood starlets. Avoid using them on dogs with prick ears, and add a tie under the chin to keep it on.
Some creative homemade costumes are:
Dressing your dog up like another dog…
Doberman as a Poodle – Add black puff-balls to your Dobie (or Rottweiler's) tail and ankles and add a fluffy faux fur chest to complete the look.
Reverse Dalmatian – Use small white round stickers (available at any office supply store) to dot up your black or brown dog.
Costumes that work with other costumes….
Ghostbuster Duo – Dress up your dog as a ghost (white sheet, strategically altered), and you go as a Ghostbuster, with a jumpsuit and proton pack made out of plumbing tubing and a black cardboard box.
On Safari – Your dog goes as a lion (simply add a ruff made out of "fun fur," available at any fabric store) while you go as a tourist – appropriate khaki attire plus a large camera or binoculars.
Wedding Duo – Always a hit, two dogs can go as bride and groom (you'll get more laughs if your groom is the smaller dog!), or better yet, they can go as a famous married couple (Lucy and Desi, Sharon and Ozzy).
Dog Costume Safety
When dreaming up your costume, make sure that none of the parts will impede your dog's motion or cover up his eyes. Make sure that the costume fits – dragging fabric or accessories can be stepped on, causing your dog to panic. Tailoring an outfit to fit a dog is best accomplished with patience, a lot of double-sided sticky tape (you can adjust it permanently with no-sew fusion tape after you fit it) and a bunch of dog treats, to get your dog to hold still.
Be careful with any costume that you dream up that requires dyeing your dog. Human-grade hair dyes are not appropriate for dogs as they will damage the coat, and aerosol dyes are dangerous around a wiggly pooch.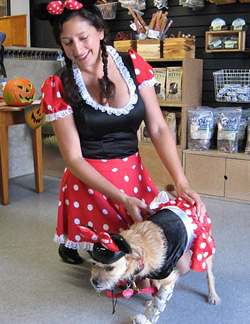 Dog-safe dyes do exist but they are best used by a professional groomer who has experience working them into your dog's coat. If you are looking for that shocking pink or green color, contact your groomer ahead of time and see if you can book an appointment for a color change. Be aware that color sometimes doesn't come out that easily!
Use Positive Rewards
If your dog isn't used to wearing outfits, prepare for your Halloween debut ahead of time by conditioning your dog to his costume. Let your dog examine and sniff the costume before dressing him. Put the costume on, give your dog a bunch of delicious goodies, and immediately remove the costume. Repeat this a few times until your dog begins to associate wearing silly things with lots and lots of praise and treats.
Remember, also, to make sure you can safely control your dog on leash while he is wearing his outfit. Good luck and trick or treat!