Grand Opening!
Zoom Room Hollywood Debuts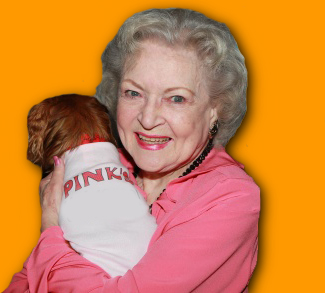 On September 12, 2010, the Zoom Room Hollywood will open its doors to celebrate the social aspect of dog ownership throughout Los Angeles.
Our Grand Opening will also serve as a fund-raiser for the wonderful Morris Animal Foundation, of which the incomparable Betty White is a trustee and President Emeritus.
The Morris Animal Foundation helps animals enjoy longer, healthier lives by advancing health and welfare research that protects, treats and cures companion animals, horses and wildlife worldwide. The Zoom Room will make donations to the Morris Animal Foundation on behalf of everyone who RSVP's in advance for the event. (We'd also ask that you please bring your checkbook to make additional donations, if you are able to.)
Hollywood Dog Trick Contest
At 1 pm, we will begin our Hollywood Dog Trick Contest, hosted by an expert panel of judges. There's no cost to enter – simply sign up your dog for the Tricks contest then show up promptly at 1 pm ready to perform!
Check out our prizes:
First Place: An unlimited six month pass to Open Gym – Your dog will have THE best playground in all of Los Angeles, complete with a full agility course for excellent excerise!
Second Place: We will throw a Doggy Disco® party for you, your dog, and up to TWENTY of your friends and their dogs, complete with refreshments, treats, music and a laser light show on the floor for the dogs to chase.
Third Place: A $50 gift certificate to lavish on your dog – raw food, brain puzzles, dog toys, all-natural treats – let your dog do the shopping!
Dog Adoptions
Bark Avenue Foundation, a Los Angeles-based non-profit animal welfare organization committed to saving animals' lives and reducing pet overpopulation, will hold an adoption event at the Zoom Room from 5-7 p.m. with dozens of adoptable dogs and cats. The organization was founded in 2004 and has placed thousands of animals in loving homes throughout Los Angeles.
Grand Opening Party
And then, from 6 pm to 10 pm, we'll host a blow-out party and fund-raiser for the Morris Animal Foundation. Award-winning baristas will be on hand to serve freshly brewed "Zoom Room Agility," a new line of direct trade coffee made exclusively for the Zoom Room by Intelligentsia Coffee and Tea. We'll have free Pink's Hot Dogs (no waiting in line!), drinks, treats, free gift bags of goodies for you and your dog to share, a Doggy Disco®, music, fun, celebrity guests, and a chance to mix and mingle among other great dog owners in L.A.
The party is open to all dog owners, accompanied by their dogs of course, completely free of charge. However, we do require that you RSVP in advance. And for every person who RSVP's, the Zoom Room will donate $10 to the Morris Animal Foundation. We'll also be accepting additional donations through the day and evening, so while all of the day's events are free, we ask that you please bring your checkbook and talk to the folks from the Morris Animal Foundation about all of the incredible work they do to improve the lives of dogs. Please help us make a difference.
We look forward to meeting you and your dog!