Ice Cream Social Benefits
Kids with Life-Threatening Illnesses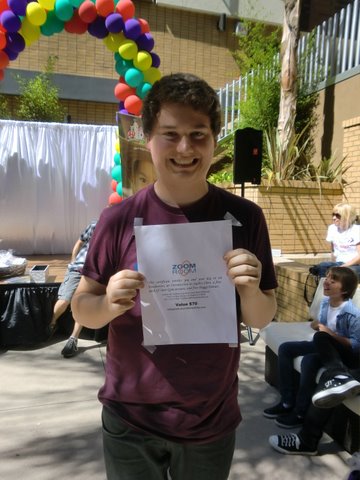 Zoom Room was delighted to be one of the sponsors of the Ice Cream Social event held for children with life-threatening illnesses, in partnership with Give Kids the World Village and singer Austin Anderson.
You may remember Austin and his pup, Frankie, from our grand opening nearly a year ago. Austin performs on Nickelodeon and Radio Disney, among other kid-friendly venues.
Pictured to the right is the winner of the Zoom Room's donation of a free evaluation, agility class, multiple Open Gym sessions, and a bunch of delicious Doggy Donuts.
Give Kids The World Village is a 70-acre non-profit resort located near Central Florida's most beloved attractions. Here, children and their families are treated to week-long, cost-free fantasy vacations, complete with accommodations in the Village's whimsical villas, transportation, donated attractions tickets, meals, and much more. GKTW provides an escape from the world of doctors and hospitals to a place of love and laughter where dreams become a reality.
And did we mention all-you-can-eat ice cream!?
The event received international attention. You can view the footage here.