Painting by Kaine the German Shepherd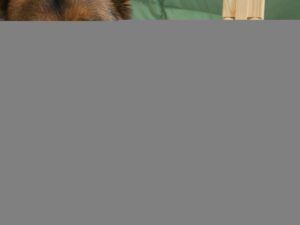 Kaine is a three year old, clicker trained, award-winning German Shepherd. Kaine's favorite trick is painting. He loves to create original pieces of art with his imagination.
Kaine's owner, Ashley, first encountered German Shepherds was when she was only seven years old. Her grandfather from England raised and trained German Shepherds for the British Police Force. Ashley fell instantly in love with the breed.
Ashley read lots of books on German Shepherds to prepare herself. She visited ambassadors of the breed and talked to people that had a German Shepherd. She volunteered at animal shelters and worked with many German Shepherds & Shepherd mixes.
Finally, on her 19th birthday, she found her perfect puppy in Kaine. Kaine has received his Canine Good Citizen Award, the Novice Trick Dog Title, and his Therapy Dog certification. Ashley and Kaine appeared on television together for the 1st Annual World Wide Fido Awards 2008 which aired on Nick At Nite on October 5th, 2008.
Here's what Ashley has to say about Kaine:
I brought Kaine home in 2006 and we have been inseparable since. He has taught me so many things in the short time we have been together. He has shown me pure love, devotion, and loyalty.

I have trained Kaine on my own since we started our lives together. I first taught Kaine how to sit with cheese and a toy when he was only six weeks old. Our training is based on trust and the science of how dogs learn. We use positive reinforcement (a reward is added to increase the likelihood that a behavior will be repeated) and clicker training.

Kaine is such an intelligent dog and he loves to learn. One of our favorite ways to spend time together is to learn a new trick. Trick training improves Kaine's confidence and is mentally stimulating. Tricks are a great way for us to bond and they improve Kaine's overall body awareness. Learning tricks is fun and greatly helps with agility.

Kaine is a sweet, compassionate being and a wonderful ambassador for his breed. Kaine loves all types of people and he brings a smile to everyone he meets. Kaine teaches me something new everyday. He is the one who inspired me to become a clicker trainer. He is my hero, my best friend and I love him with every beat of my heart.
The video below is one of the semi-finalists in our America's Best Dog Trick Contest. Ashley and Kaine would love your vote!