Agility Training… Underwater
Agility training sounds like so much fun. Except you live in an apartment that doesn't allow dogs. What to do? Easy: train your fish.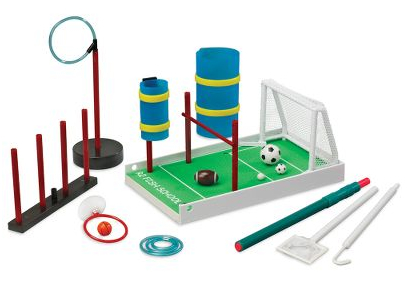 Fish Agility Training
Oh, if only we were joking this time. Unfortunately, folks, this one's for real. The good people at Hammacher Schlemmer are extending the joys of positive reward agility training to fish owners. Their "Fish Agility Training" kit incldues weave poles, pipe jumps, tire jumps, and even some obstacles we don't have at the Zoom Room – like a soccer goal.
The set also encourages "fetch training" by making use of the natural tendency of some fish to pick up and move gravel with their mouths.
The holidays are coming…! If you don't opt for a gift certificate for obedience training, you just might want to pick up one of these little agility training gizmos. (Not suitable for Teacups.)
Note: they seem to be sold out at the present time, due to the "unexpected popularity" of the item, but feel free to check back religiously for your chance to own your own fish agility training set.