Meet Bishop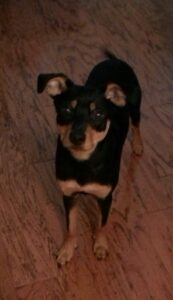 This submission is by Amy Nelson, whose everyday Hero Dog is Bishop, a Australian Kelpie Mix.
My Dog is My Hero Because…
My husband and I adopted Bishop just shortly after my father was diagnosed with cancer. My dad has always been a "dog person" and was very excited to find out we adopted a puppy of our own. From the moment we brought Bishop over to meet his "grandpa" I could see that the energy and love from this little puppy was a great healing power to my dad as he went through cancer treatment. We take Bishop to visit, play, give kisses and snuggle about once a week. While "grandpa" was in an extended hospital stay he had pictures of his human grandchildren around the room, but one of the pictures was of his "grand-puppy", Bishop. Bishop and his human family are excited to participate in the 1st Annual Bark for Life in grandpa's home city this coming spring. He will be walking in honor of his grandpa and hopes to raise money for cancer research. Bishop brings joy, love, and excitement to our family while we journey though cancer treatment and that makes him our hero.
Learn more about the Hero Dog Awards.