Sherlock Sniffs Out Love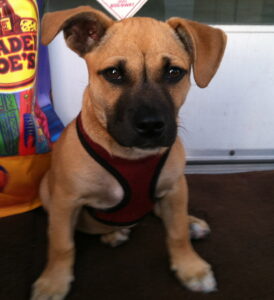 Meet Sherlock, a little man with huge life and February's Dog of the Month. This 1 1/2 year old love bug is a mix Boxer, German Shepherd, Corgi, and unknown Terrier.
When Sherlock was about eight weeks old, he was given to Judy, a lovely homeless woman. Angie lived in the neighborhood in which Judy resided. Every few days, Judy would bring the pup to Angie's to have him socialize with Angie's own dog.
Seeing how much Judy and Sherlock meant to each other, Angie and a few others from the neighborhood banded together to help Judy keep Sherlock well and safe. They gave him a bed, carrier, toys, and excellent food. Angie even got him chipped and vaccinated.
One evening, however, someone crept up while Judy was asleep and stole Sherlock away from her. Angie went to work putting up posters and starting a campaign on Facebook to find Sherlock and bring him home to Judy. After five weeks of searching, they found Sherlock and were able to take him back to his mom.
Angie has been fostering dogs for about 10 years, but not one dog has touched her heart like Sherlock. As Angie puts it, "He has survived by his wits on the streets…He is funny and he knows it, he's never met a dog he doesn't like. He has the biggest personality I've ever met in a dog."
When Sherlock isn't socializing with Angie's dog, he loves chasing tennis balls, eating chicken, or doing laps at the dog park with all the dogs chasing him. He also enjoys watching TV, howling at sirens and watching himself in the mirror as he does. He also loves zooming around the Zoom Room, courtesy of Angie.
Congratulations, Sherlock! You've touched the heart of many, including the staff at Zoom Room, and we hope you enjoy your private gyms!