It was just too hard to decide!
Meet Valentina and Flurry!
We had so mant adorable entries for the "Zoom Room Aftermath" contest in February that we couldn't limit ourselves to just one winner…so this month we also have a runner up!
The winner… Valentina Simms
Owner, Brian, went above and beyond by posting a video of worn-out Valentina, which we found irresistible:
According to Brian….
Valentina tends to be a bit less energetic after an hour of puppy agility class. A photo just couldn't do the snoring justice 🙂

Favorite toy – anything that someone will tug on with her.
Favorite snack – freeze dried liver
Best trick – drooling when presented with a treat
Favorite class at the Zoom Room – Puppy Agility
Breed – cane corso (pronounced kah-ney corso)
Gender – female
Age – 5 months
Valentina will receive a $25 gift certificate to shop for her favorite toy, chew, or whatever she wants!
And Runner Up…Flurry (with sister Skye)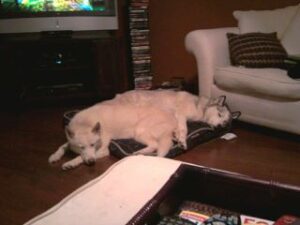 Favorite snack? Whatever Julene has in her treat bag, of course!
Best trick? working on the skateboard!
Favorite class at the Zoom Room? Agility!!!!!!!!!!!!!!!!!!!!!!!
Siberian Husky
Female
4 in March!
Flurry will receive a free Open Gym pass!
Thank you for all the adorable submissions…this theme will definitely be back!
(in order of submission)
Jackson White (Obedience 1)
Emma Henneberry (Puppy Preschool)
Ollie Curtis (Agility 1)
Edgar & Lily Johnson (Shy Dog & Scent Discrimination)
Mugs Dunham (Agility 1)
Houdini & Loki (Agility 1…yes, both of them!)
Cajun Wilensky (Agility 1)
Rogers Taylor (Puppy Preschool)
Roxy Wilson (Agility 1)
Colton Myers (Agility 1)
Lilly Brower (Agility 1)
March's Dog-of-the-Month Theme:
March's theme is "Trick, Tricks, Tricks"…just post a photo of your dog in their favorite relaxation pose after class, along with answers to the following questions:
What's your dog's favorite toy?
Favorite snack?
Best trick?
Favorite class at the Zoom Room?
Breed
Gender
Age (your dog's, not yours!)