Halloween Party Photos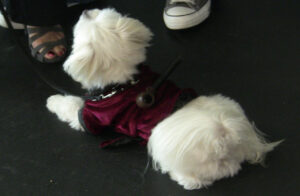 Our first Haunted Hollywood Halloween Party, aka. THE DOOM ROOM, was a great and spooky success, with over 50 costumed dogs and their doting owners in attendance. We saw a mutitude of four-legged bees, an Elvis, a giant lamb, a Corpse Bride, Hugh Hefner (pictured to the right), skunks, squirrels, flowers, monkeys – a regular menagerie!
The prize for "most inanimate" goes to our own Clyde, the Komondor, who dressed rather minimally as an Ikea rug. (No prizes were awarded to him – so please no complaints about favoritism!)
As to the REAL prize winners – we awarded top honors in three categories: Best Large Breed, Best Small Breed, and Best Ensemble (figuring the owner's costume into the mix).
Best Big Dog went to Pilot, a German Shepherd Mix, as Harry Potter, utterly dashing in his cape, scarf and lightning bolt scar.
Best Little Dog went to Randall, a Chihuahua Mix, as a super creepy Freddy Kruger.
Best Ensemble went to the entire family of Josie, a Yorkshire Terrier, who all dressed as festive sailors.
All of our winners receive 10 free passes to Open Gym and a scary skull dog toy.
Thank you to everyone for coming out and making our first Halloween Party such a great success! And thank you, too, to Margo's Bark, who provided root beer for all the human guests, with all proceeds going toward local animal shelters.
HAPPY HALLOWEEN FROM THE ZOOM ROOM!