Murphy: The Dog Playing Basketball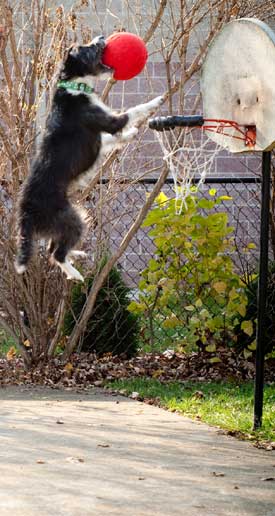 Murphy is a three-year-old Border Collie/Schnauzer mix. Her owners, Katie and Steve, noticed that when Murphy was a puppy, she would leave her toys all over the floor, just as any toddler would. So they started teaching her to pick up her toys, bring them back and put them in the basket.
Katie was showing a friend Murphy's great trick of picking up after himself, when the friend suggested, "Hey, you ought to teach her how to play basketball!" All good dog tricks should be developed in increments, so Katie and Steve simply raised the toy basket up off the ground so that Murphy would have to stand on her hind legs to reach the basket.
From there, they graduated to a basketball hoop. Initially, they kept the hoop low to the ground, but gradually raised the height. Pretty soon Murphy had to start jumping to reach it. The rest, as they say, is history…
The video below is one of the semi-finalists in our America's Best Dog Trick Contest. Katie, Steve and Murphy would definitely appreciate your vote!
Here's what Katie and Steve have to say about Murphy:
Murphy has a ton of energy and can run all day. She thinks she is a hunter – much more than a herder. When we go out for walks or runs, she is looking all over for anything that moves. We cannot go where there are deer or she will chase them. She is almost as fast as they are! She also loves to go canoeing and swimming and just loves water.