Fun & Exercise for Kids and Dogs!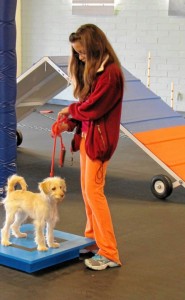 Are your kids eager to train the family dog? Or, would you like them to be more involved?New this summer, we are dedicating agility classes just for youth between the ages of 8 and 15. These classes are a great opportunity for children and dogs to get some exercise and have fun, all in an air-conditioned facility during the hot summer months! Beyond fun and exercise, they will also learn dog handling skills, improve their bond with the 4-legged family member, and even pick up some confidence and communication skills themselves!Zoom Room always encourages children to participate in our training classes, but now we are dedicating summer classes just for them!
Schedule: Six sessions, 2x per week for three weeks.
Cost: $150, or
$250 for Agility 1 & 2 ($300 value)*
* Use Agility for Kids 2-PACK at checkout to enroll online, or give us a call at (704) 900-6728.