New Dog Agility Exercise Study
to be Conducted at the Zoom Room
World's First Scientific Research Study of Human Physiological Responses During Dog Agility Training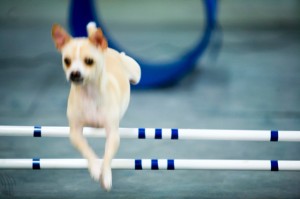 The Zoom Room is delighted to announce that it will be hosting the first ever scientific research study into the physiological responses (of humans) when practicing dog agility.
One week from today, on Thursday, March 11, exercise physiology researchers from the University of Massachusetts at Amherst will be flying in to Los Angeles to commence a scientific research study into into how many calories are expended and the heart-rate responses realized while engaging in dog agility training with your pet.
Using specialized portable metabolic measurement devices, researchers will be examining metabolism, calories burned and heart-rate responses of humans doing dog agility training.
The project is being overseen by Dr. Patty Freedson, the Chair in Kinesiology at UMass Amherst. Dr. Freedson's research interests include children's responses to exercise, physical activity assessment, and exercise and women's health. Her work focuses on determinants of performance and fitness in children and adults, development and validation of objective techniques to assess habitual physical activity in children and adults.
Dr. Freedson is a leading pioneer in the creation of portable devices for measuring indices of physical activity, and recently received a grant of $2.1 million from the National Institute of Health for developing such technology. Her expertise in this field is thus a perfect fit for examining the fast-paced dog sport of agility training.
The Zoom Room has long celebrated the joys and benefits of dog agility for developing speed, agility, and coordination in dogs, and enhancing communication between dogs and their owners. We are utterly delighted to now enter the forefront of scientific exploration into the nature of the physiological responses of humans during dog agility training.
UPDATE: Click here to see photos of the exercise study.