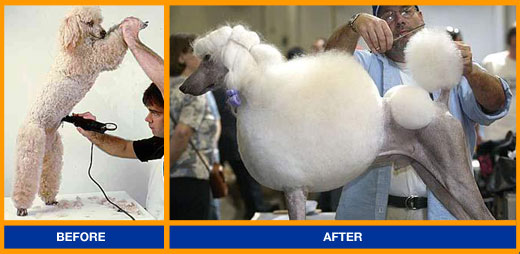 Brazilian Wax for Dogs
Rio de Janeiro, Brazil – Hairstylist Roberto Fabiano and esthetician Gloria Florianopolis were searching for a new business enterprise after "Coração de Amador," the telenovela they'd worked on for the past two decades, was cancelled. Combining their love of dogs and beauty, it didn't take Fabiano and Florianopolis long to launch the Instituto de Beleza de Cães, or the "Dog Beauty Institute."
Although they also offer traditional services such as bathing, styling, and of course pedi-pedis, they weren't prepared for the overwhelming response they'd receive for their unique Brazilian Wax for Dogs service.
One dog owner who has now become a regular of the Instituto is famed Capoeira instructor Maria de Cavalho and her beloved Bichon, Abacaxi. "Abacaxi was nervous the first time, but afterwards, when she saw how silky and smooth her legs looked, she was jumping for joy," says de Cavalho, who also notes that she's been able to quadruple her breeding fees ever since her dog started receiving monthly Brazilian Wax treatments. "We used to pay over 1000 reals in stud fees," continues de Cavalho, "but I tell you, now the boy dogs are lined up around the block for my little Abacaxi!"
One of the secrets to the Instituto's success is their use of churrasco-scented wax strips. "The smell of grilled meat sets every lady dog at ease," beams Fabiano. Starting in November, due to overwhelming demand, they'll also be introducing a line of tropical fruit-scented waxes, including passion fruit, mango, papaya, and açai.
If you're interested in a Brazilian Wax treatment for your dog, and would like to contact the Instituto de Beleza de Cães, simply step into the washroom, splash some icy water on your face, and come back to reality. Then give thanks that we live in a world where a Brazilian Wax for Dogs is merely a figment of our imagination.
If you really want to pamper your dog, why not do something wonderfully sane like taking him for a walk, or signing up for a dog agility class, or if you must splurge, throw him an unforgettable dog birthday party. Save the wax for the birthday candles on his doggy cake!