Meet Robo, the smart and fun-loving Border Collie
Nicknames: Ro, RoRo, RoRoRoRo, Robo Dog
Classes Taken: Agility 1, Agility 2, Agility 3, Agility League, Loose Leash Walking
Robo is a sweet and sensitive boy who loves hanging out with his family. He came to Zoom Room a little timid and unsure and now he is a confident guy that holds his own on the agility course. He is almost 2 years old, in fact his birthday is in August! Happy Birthday Robo!
When Robo first came to Agility he didn't want to jump over the jumps and would just walk over them and almost always knock them over. Now he has a beautiful jump and is exciting to watch on the course. He still doesn't always care for the tunnels but with enough encouragement he will go through them.  He came in 3rd place in the first session of Agility League and he's looking to move up in the rankings during this next session.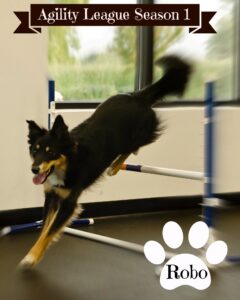 Robo lives with his brother Joven, also a Border Collie.  These two are a great pair and will snuggle and play together. They both started agility at the same time and at one point Joven had surpassed Robo.  But, with some hard work by Robo and his mom, Bethany, he caught up and now holds his own against his big bro.
Robo's not always a huge fan of other dogs, he has his favorites, but he certainly LOVES people! His absolute favorite toy is a rubber bone that squeaks ands smells like beef. He will chase it and bring it back to you all day.
It's been great to get to know Robo and see him grow into a confident, well-behaved pup. He's got the one-ear-up look that always makes you smile and he's got some of the softest fur around.  He's always a joy to have in class and in the store. He's definitely who we think of when we say "The best dogs in the world walk through our doors".  Congratulations Robo, good boy!