Penny and Hank's Zest for Life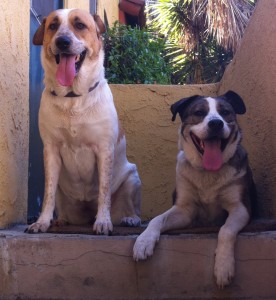 Two is better than one, which is why this April we are honoring both Penny and Hank as our Dogs of the Month! After losing their beloved family dog Clarence to cancer three months prior, Floyd and Ivory decided it was time to find another member of the family in May of 2013.
While attending a large NKLA event hosted at the La Brea Tar Pits, they saw Penny with the Adopt and Shop coalition members. Penny immediately grabbed their attention because she was so cute and eager to snuggle. Among all the hustle and bustle around her, Penny was content to lie on her back and just soak up the love and belly rubs from everyone.
A month later, Floyd was online looking for more information on a second dog they had seen at the NKLA event. As he was perusing what turned out to be the "wrong" shelter's website, he noticed Hank. Hank first caught Floyd's attention because of his uncanny resemblance to their previous dog, Clarence. Upon further investigation, Floyd was amazed to discover that Hank was pulled from the same shelter as Clarence. Based on their age difference and the fact that Clarence was not neutered when he was brought into the shelter, Floyd suspected that Hank could very well be related to Clarence.
Labradors and Friends, based out of San Diego, had pulled Hank out of the shelter. He was red tagged and missing hair on over 80% of his body due to a severe mite infection. His foster parents had been nursing him back to health when Floyd and Ivory contacted them. After driving down to San Diego to meet the pup (on Father's Day of all days!) they knew he was going to be a part of their family. His puppy-like energy and constant state of happiness brought smiles to Floyd's and Ivory's faces. It was icing on the cake when Penny and Hank immediately bonded.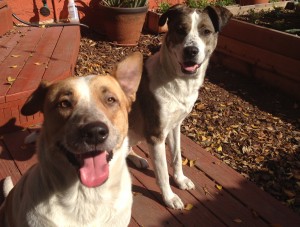 Hank and Penny have become a dynamic duo and each other's favorite play toy. When they aren't wrestling with each other, Hank can be found chasing tennis balls and Penny chewing on her favorite Kong.
Penny and Hank fill their parents' hearts with love and joy every single day. As Floyd describes, "It is impossible to know what kind of neglect or abuse both of our dogs suffered before they were rescued, but both have such great personalities and a zest for life. We are so grateful they are part of our family." And we're so grateful you all are a part of ours!
Congratulations, Penny, Hank, Floyd and Ivory!