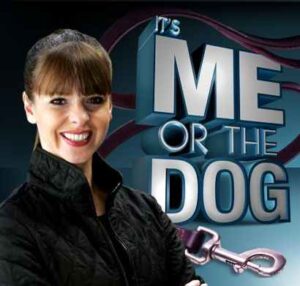 It's Me or the Dog – Animal Planet
Mark your calendars for Saturday, March 14th at 9 pm.
The Zoom Room will be featured as the training locale for the hit series It's Me or the Dog on Animal Planet, a training show in which dog trainer Victoria Stilwell helps out hapless dog owners.
The show's producers contacted the Zoom Room because of our fun, sporty atmosphere, and thought that an indoor training facility would provide the owners of Mr. Black, a Beagle mix, with an opportunity to practice his newly acquired obedience skills outside the house.
We don't want to give away the ending, but we will say that Mr. Black deftly worked his way through a series of skill tests with both Victoria and his owners. We were thrilled to meet Victoria and host such a positive dog show, which emphasizes relationship building between owner and dog. Check us out Saturday, March 14th at 9pm!