Adopt-a-Pet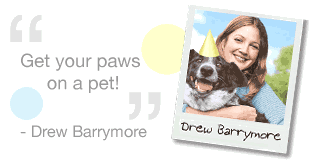 Adopt-a-Pet.com is North America's largest non-profit pet adoption website, helping 10,000 animal shelters, humane societies, SPCAs, pet rescue groups, and pet adoption agencies across the United States and Canada advertise their homeless pets to adopters for free.
Adopt-a-Pet.com displays photos and descriptions of adoptable pets to over 1.5 million people seeking to adopt a pet each month, and is funded by the passionate pet lovers at Purina and Bayer Animal Health. Aside from being able to adopt a dog or cat, Adopt-a-Pet.com visitors can also adopt a rabbit, horse, bird, reptile, amphibian, fish, farm-type animals and other small pets. Their mission is clear: getting homeless pets into happy homes.
They have a huge volunteer database and their volunteers run the spectrum from young kids to celebrity spokes-stars such as Drew Barrymore, Kelsey Grammer and Eddie from "Frasier" and more! They even have the "Taco Bell" dog helping save pets! Adopt-a-Pet.com's plan is to just keep doing all that is possible until every homeless pet has a happy home.
Adopt-a-Pet.com lists thousands of great pets looking for homes and makes it easy for you to search for the pet you want to adopt. Their goal is to connect adopters with pets who need homes so that they can help every animal go from alone to adopted. Even though it's a big job and Adopt-a-Pet is run by a small group of pet lovers, they believe every pet has a right to live a full life with a loving family.
If you like what they do and want to help save shelter pets, please fill out a Volunteer Profile on their website and join the team! You can also sign up to receive their monthly newsletter.